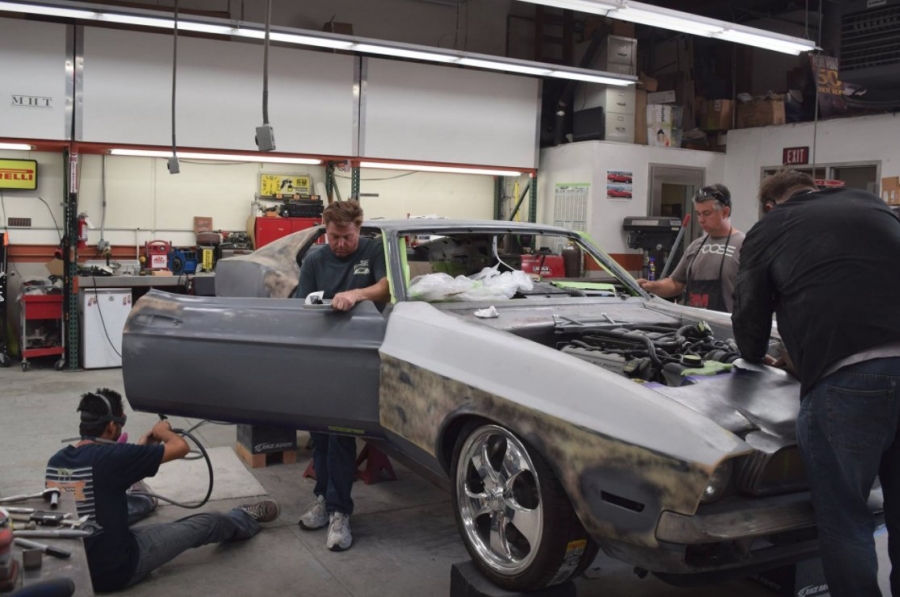 Chip Foose and his team are well known in the automotive world. He has completed numerous custom auto builds and restorations, and has won many industry awards.
He was the star of "Overhaulin," a car-restoration reality TV show on the Velocity Network, and makes appearances at automotive events worldwide.
Time is running out for Foose and his team. As of today, they have only 41 days left to complete a car build project out of their Huntington Beach, CA, shop for SEMA. They are putting a 1971 Ford Mach 1 Mustang body onto a modern 2010 Mustang GT, extending the wheelbase by 3 inches. The front end will be completely restructured with new strut towers and a cleaned-up engine bay.
Chip Foose's social media accounts posted the following information about the "Mach Foose". The '71 Mustang's stock rear quarters will be replaced with quarters from a 1970 Mustang. These new panels will add new shape and width to fit the wider rear wheels and tires. The car will use Baer Brakes and EradiSpeed rotors.
Eddie Kotto of Kotto Auto Glass helped Team Foose with the rear window of the car. Eddie's team custom-cut a piece of glass from a Ram 2500 van to make the flush mount rear glass that the Mach Foose needed.
Team Foose is known for its exclusive use of BASF paint. On a social media post, Chip Foose said, "We exclusively use BASF Refinish Glasurit products."
The completed project car will debut Tuesday, Oct. 31 in the BASF Refinish North America booth at The SEMA Show in Las Vegas, NV.
Each of my posts is a sincere attempt to correlate & compound the collective knowledge of this community for the benefit of myself & all Mach1 owners who read these pages today, and in the future!
Welcome all Mach1 enthusiasts were glad your here! Jump on in and spread all the knowledge you can.
Current Vehicles:

2015 Harley-Davidson Electra Glide Ultra Classic
2014 Ford F150 Platinum 4x4 5.0
2013 Shelby GT500 SVT 20th Anniversary Edition
2013 Mustang GT 5.0
2007 Kawasaki Brute Force 750i 4x4
2006 Kawasaki Brute Force 750i 4x4
2006 Yamaha Raptor 700R
1979 Pontiac Trans Am
Sell your Mustang or Mustang Parts free!
"Horsepower sells cars, torque wins races" - Carroll Shelby
My Mustang just used the gas your Prius saved. Thanks!
Phoenix Arizona
MY CURRENT MUSTANGS
updating