---
Any model builders 'round these parts? - Mister 4x4 - 04-10-2018

Since my Mach 1's almost 'done,' (well... are they ever really 'done?'), my wife's decided on no more full-size projects for me.  Fair enough, the garage is full with my '80 Jeep CJ-7 and Mustang, and our daily drivers take up both sides of the carport, so there's no more room for any more cars, anyway.

So I've recently gotten back into building scale models.  I love building just about anything, from military planes, to buildings, to sci-fi spaceships, to my favorite: cars (of course).  I'm actually on something of a quest to rebuild all of the kits I'd done as a kid (since they all disappeared after I joined the Air Force... Thanks, Mom) - which will take awhile... I built a LOT of kits when I was a kid.  So far, I've collected about a dozen of them, along with another 20 or so kits that I just want to build because they're cool.  I think I'll be somewhere in the range of a couple hundred if I stop adding anything to 'the list' right now.

I'd started a few kits way back in the day and never really gotten close to finishing them for various reasons (mostly because sitting hunched over at the kitchen table with very little light and having to pack everything up after a few hours just sucked).  So I cleaned off a wing of my computer desk and turned it into a model making workbench, which is working out very well.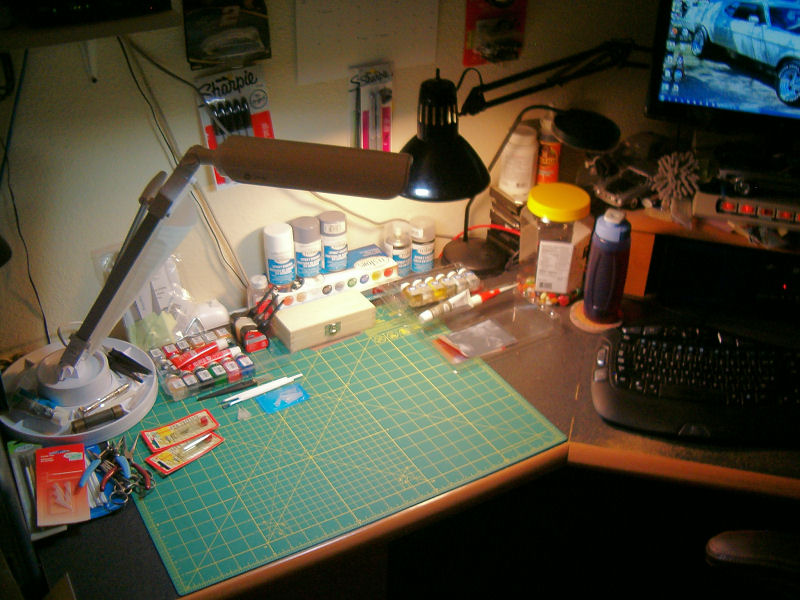 I also built a new shed on the side of the driveway (rear of the house), which I'm working on building a dedicated workbench with an airbrush paint booth, but for now I'm sticking with rattle can paints.

To start off, I tackled the last kit I'd started: a Hasegawa 1:25th scale Honda Civic hatchback as a replica of my '95 Civic VX I sold right after buying the Mach 1 (sorry little ricer, you're just not cool anymore)

Here's the 1:1: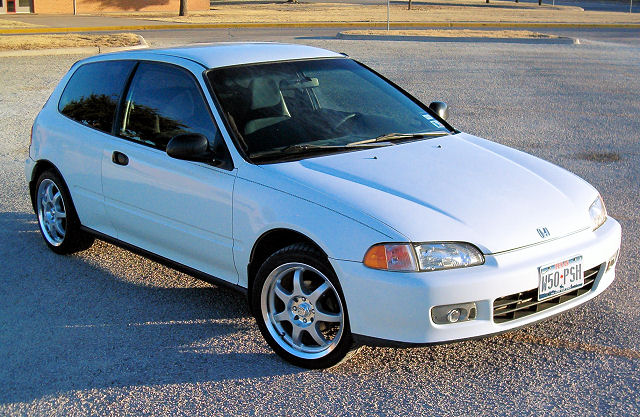 And here's the finally finished kit (OK, so I need still need to fix the A-pilars that broke awhile back and add the license plates):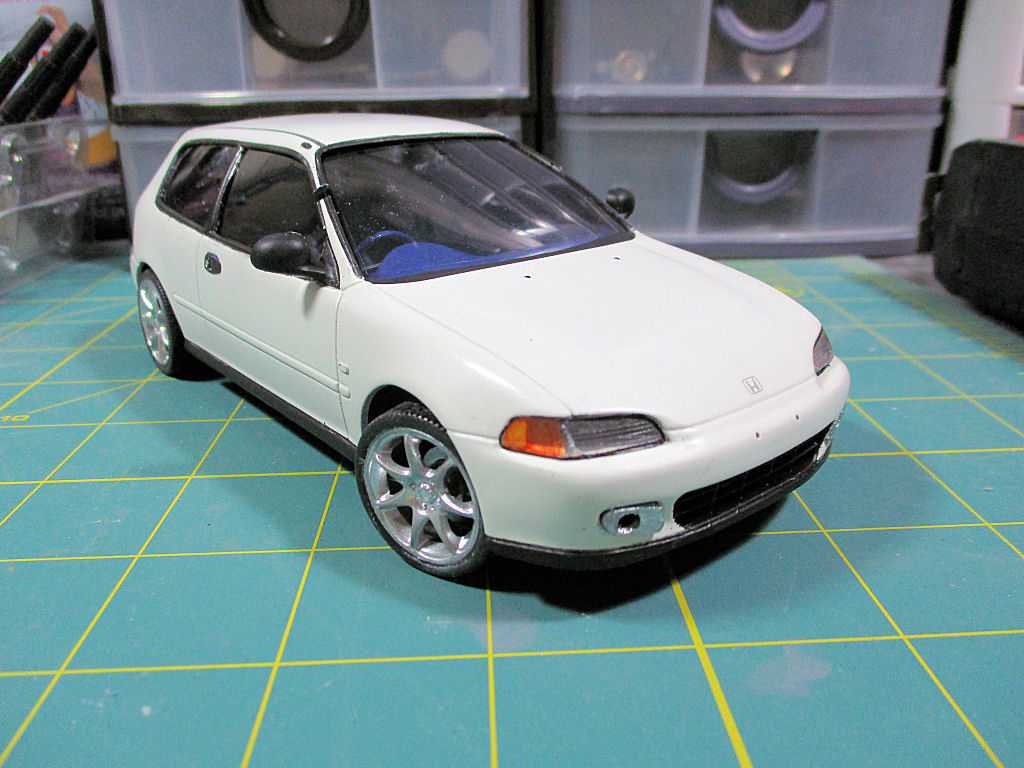 And the most recent kit I just finished was one of my 1980 Jeep CJ-7 I'd started back in 1995 after I bought the full-size Jeep.  I had to take it apart and 'reboot' the kit to update it with the things I'd done since then, which worked out better anyway:

The real Jeep: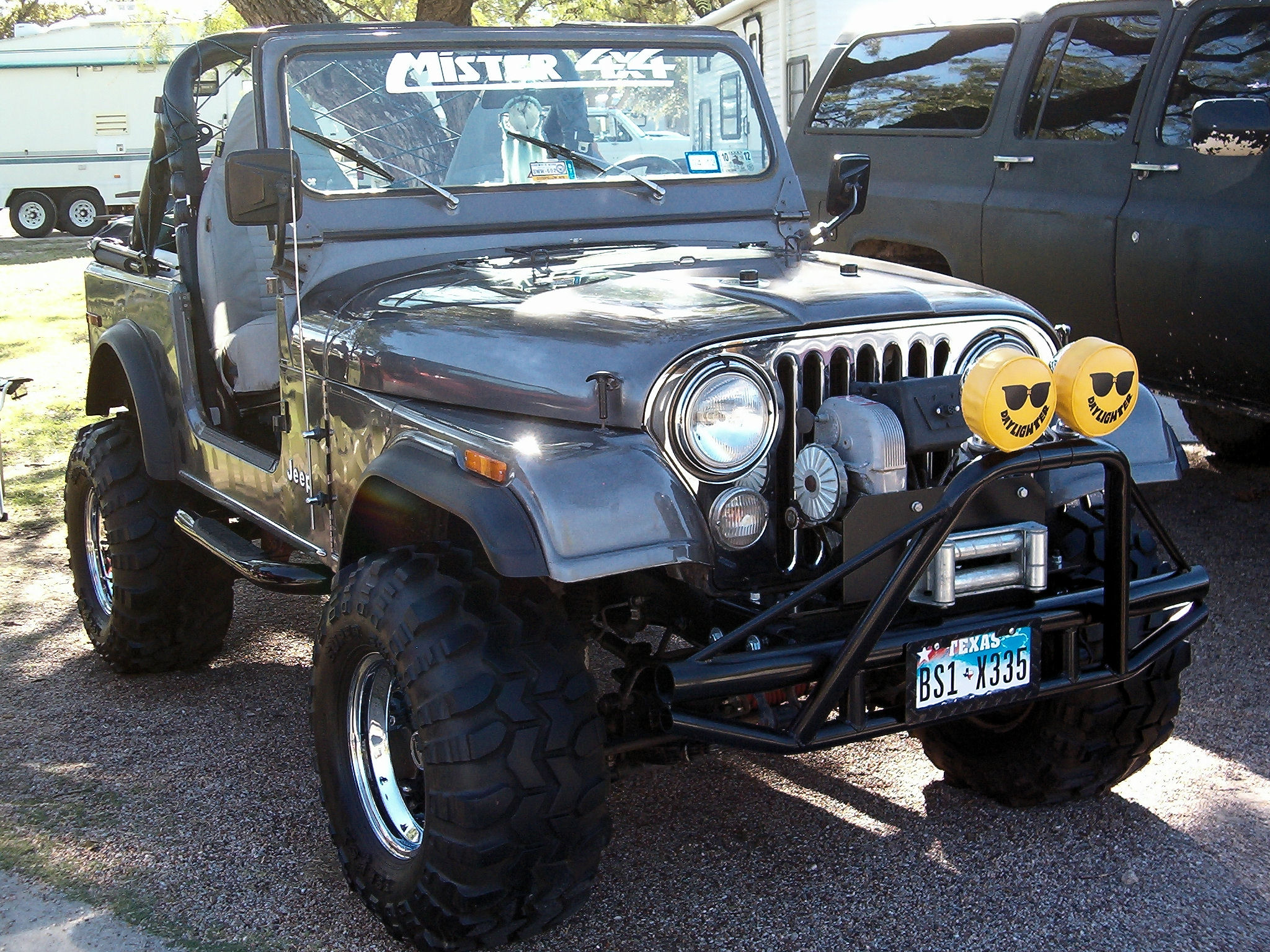 And the finished small scale version: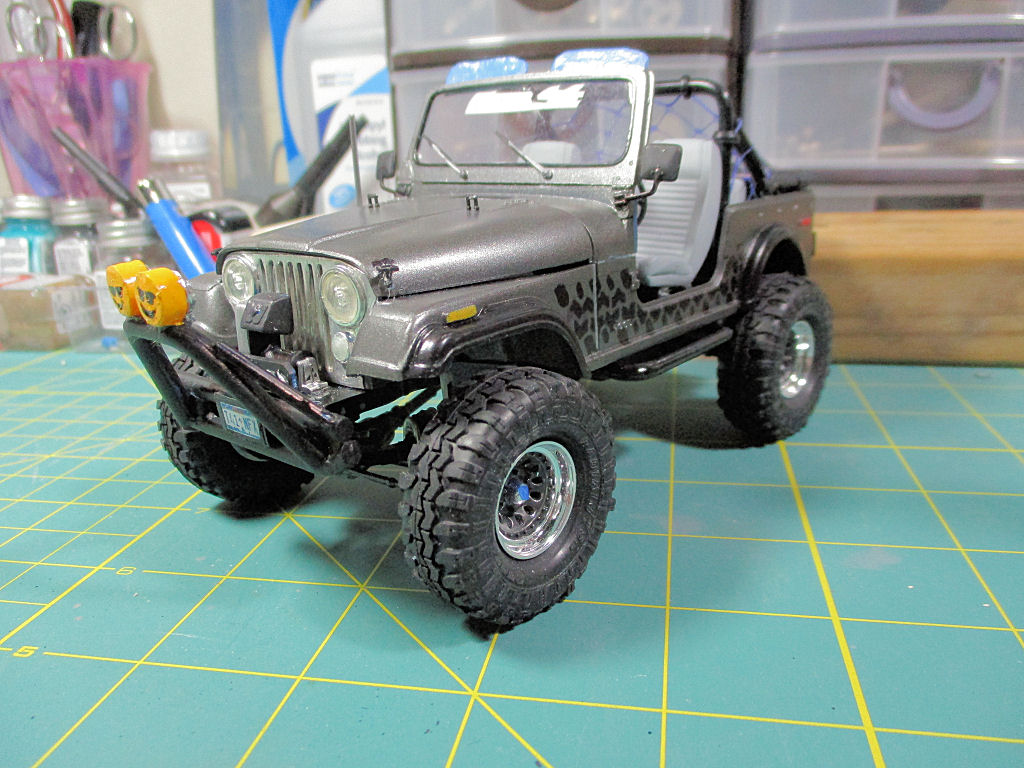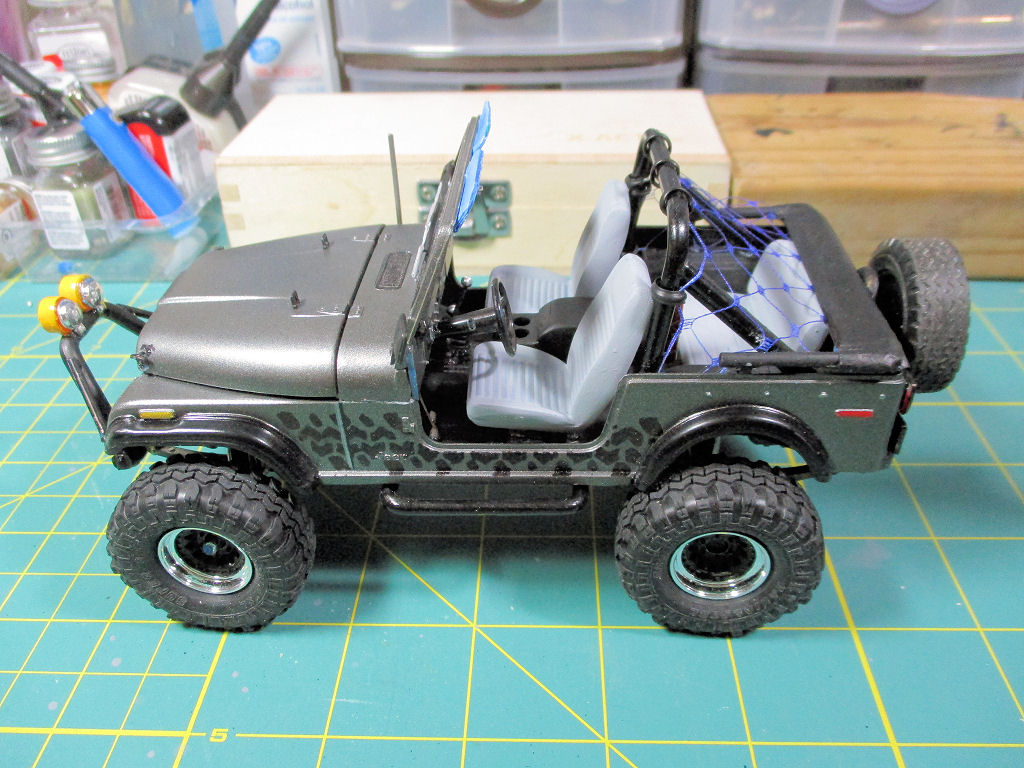 Right now, I'm working on (just started) a replica of my first car: a 1982 Mustang GL, using an actual '79-82 kit, rather than an '83-'84 kit, which was all I could find back in '88.

The car:



And we're off!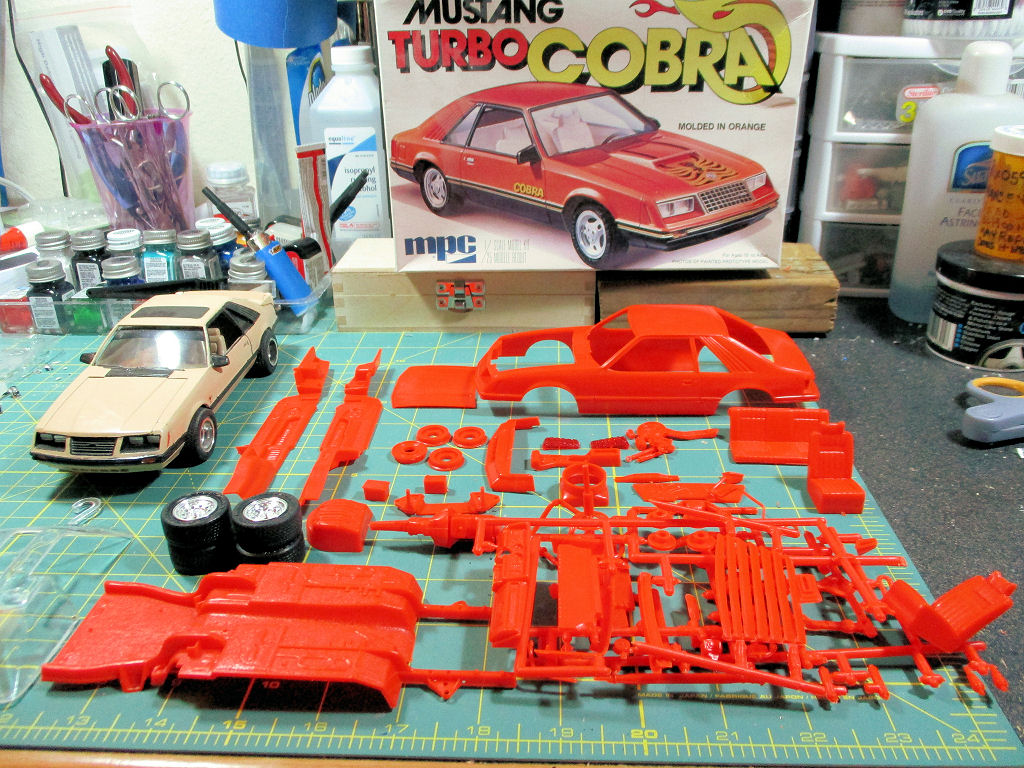 I also found a set of the correct wheels and tires to go along with the right year model kit, so this one should come out pretty close.


I have a bunch of '71 Mach 1 kits in the stash and plan on building several dedicated to my own car, including: factory original, as purchased, during restoration, and how it came out.

So, what about you guys?  Any model builders out there?


---
RE: Any model builders 'round these parts? - Oztrailer - 04-10-2018

I haven't built any models for years. They are all stashed in one of the sheds. I don't have anywhere to display them at the moment.


---
RE: Any model builders 'round these parts? - Mustangmike - 04-10-2018

Nice work on your models.  Since I will not be doing any more car restorations after the Fairlane I may consider taking up model building too.  Looks like a nice relaxing hobby!

Are you airbrushing the bodies?


---
RE: Any model builders 'round these parts? - Mister 4x4 - 04-11-2018

I haven't gotten my bench and/or booth set-up yet.  My mom has apparently attempted to take over my shed with some boxes of crap from her storage unit which we cleaned out last summer and turned back over to the storage 'plex.  I think it's just about time to evict her junk - none of it's anything of value, intrinsic or otherwise.  Obviously, she's forgotten about it, so I would guess if I simply transferred it to the garbage cans, it wouldn't be missed.

Sadly, the current Mustang kit will also be rattle-canned (maybe even by this weekend).  The Jeep's paint was from 1995 when I originally painted it - I don't know if I can find that color again, so I let it go.  I now wish I would've sanded the molding seams before I laid down the color, but oh well.  The Honda was rattle-canned Testors flat white enamel with some Testors clear lacquer... which turned into a sticky mess that never really cured... which is also the main reason it took me almost a year to get back to it after I'd already set-up the work bench and everything.  Painting was never this complicated when I was kid, after all.  I eventually removed the remaining lacquer with rubbing alcohol and polished the flat white as much as I could - the real car has oxidation issues as well, anyway... so it's actually more authentic than meets the eye. ;)

I love how the Jeep turned out - it looks a LOT like the real one.  It started out pretty much as a mess - I had to take it apart and undo the things I'd originally started out with to get it where it is now.

Here's a link to all the pics: http://www.mister4x4.net/models/models.htm


---
RE: Any model builders 'round these parts? - Mustangmike - 04-11-2018

Nice work and web page too.  You got my wheels spinning on the model thing!  I expressed my interest to my wife and I have already been delineated to the basement.  I guess that means I have your approval!


---
RE: Any model builders 'round these parts? - Mister 4x4 - 04-12-2018

Sweet!  Sounds like you're on your way.  I've seen some pretty cool airbrush booths set up in the basement using a laundry dryer duct and fan system to suck the fumes and airbrush dust out of the rear, using an HVAC filter to trap the over spray.

Be advised, you'll drop some bucks getting all set-up, but after that, it's just kits and restocking.  I dropped $200 at Hobby Lobby a few weekends back and not just have more sanding film, little bottles of acryllic enamel, some Xacto blades, and chrome pens.

Also, don't waste your money on an expensive OttLight (the one on the left) - I had a simple cone light (the one on the right) which I just swapped in an LED (White) bulb - same quality of light, but $5 vs. $100+.

Good luck and have fun!


---
RE: Any model builders 'round these parts? - JTS71 Mach1 - 04-12-2018

[attachment=12502][attachment=12503][attachment=12504][attachment=12505][attachment=12506][attachment=12507][attachment=12508]Yeah I do some model building. I used to be heavily into it, till I was about 25 or so. Then life and kids took over, and I couldn't leave things laying around for fear of the kids getting into them. So they pretty much got but up. I have a bunch that I had displayed on shelves, but when the house burnt in 07. What wasn't damaged was packed away, and I haven't done to much since. A couple years ago I started to get the itch, and built a model desk with display shelves, power strip, lights, and set up a tool box, to keep all my supplies in. I still have small grandchildren to watch out for so I will still have to keep an eye on things. When (if ever) life slows down a little I intend to get back into building them. The only thing I can't figure out is what the heck happened??? Nobody carries model kits anymore? the only place I've found them is Hobby Lobby, and they think a standard 1/24 scale model is worth $29.95, What the HE double hockey sticks is going on ? Even a lot of the kits on Ebay are nuts??? They claim most companies stopped production of most kits so now they are collector items! Collector Items my AZZ!!! They're unbuilt PLASTIC MODEL KITS for Christ's sake. Has everyone in this world lots their flippin minds???  Just my thoughts.

JTS


---
RE: Any model builders 'round these parts? - Mustangmike - 04-12-2018

Hey JTS,  I like your set-up for building models.  It looks like you have about everything you would ever need and more.  I am guessing in the modern age of computers the hobby (and art) of model building may not be what it used to be back when we were young.  My guess is there is probably less demand for models and consequently less supply and higher prices.

I checked out the internet and it looks like there are some decent classic Mustang models in the $16 - $22 range.


---
RE: Any model builders 'round these parts? - Rare Pony - 04-13-2018

Great work! It's been over 15 years since building any models and those were helping my two boys make their Pinewood Derby cars. That was a lot of fun especially when one came in 1st place and the other 3rd place out of a field of 70 some cars.


---
RE: Any model builders 'round these parts? - JTS71 Mach1 - 04-13-2018

I have a very similar story about my 2 sons, and their pinewood derby cars. We also took First and Third. It's amazing what us old gearheads can do with a piece of wood!

JTS


---